Hilary Miller awarded the New Century Scholars scholarship!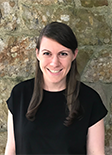 Congratulations to Guenther lab member Hilary Miller who was recently awarded a ASHFoundation New Century Scholars Doctoral Scholarship!
The American Speech-Language-Hearing Association's ASHFoundation awarded this scholarship to recognize strong doctoral candidates who demonstrate academic excellence and a commitment to a teacher-investigator career in the field of communication sciences and disorders.
https://www.bu.edu/hic/2021/05/28/introducing-our-new-institute-fellows/