Events
See some past events here.
Ongoing Musical Arts and Theology Opportunities
Weekly chapel service
Seminary Singers
Marsh Chapel Choir. Scott Allen Jarrett, conductor
Inner Strength Gospel Choir. Herbert S. Jones, Director
---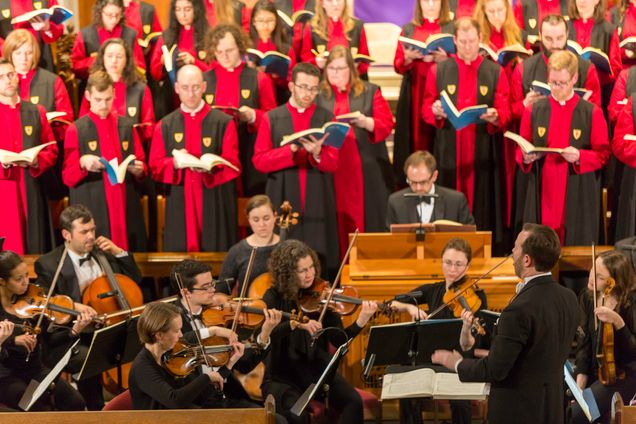 Led by Music Director Scott Allen Jarrett, the Bach Experience at Marsh Chapel explores Bach's musical world and theological connections. The 2021/2022 academic year features the fourteenth Bach Cantata series across five Sunday mornings, with breakfast, a discussion of the work, and a performance in the morning worship service. See more information here.
Sunday, September 26, 2021: Herr Gott, dich loben alle wir, BWV 130
Sunday, October 31, 2021: Ein feste Burg ist unser Gott, BWV 80
Sunday, November 28, 2021: Schwingt freudig euch empor, BWV 36
Sunday, January 30, 2022: TBD
Sunday, April 10, 2022: Himmelskönig, sei wilkommen, BWV 182
---
Dates: January 18 to March 1, 2022.
Location: BU Art Galleries (Faye G., Jo, and James Stone Gallery 855 Commonwealth Avenue)
Featuring work by Jeffrey Gibson (Chocktaw/Cherokee) and Wendy Red Star (Apsáalooke/Crow) along with nearly a dozen other contemporary artists.  Created over the past 12 years, the works in this exhibit explore a rich array of meaning relevant to our present time.
Artists investigate the global inequity of wealth and power, social justice, race, slavery, colonialism, the experience of exile and the diaspora, identity, the important role of the body, LGBTQ+ issues, popular culture, the precarious balance between progress and technology, climate change, and the environment. Some artists draw from the traditions of their cultural heritage—African, American, Caribbean, Indian, Iranian, Iraqi, and Native American. These artists celebrate their heritage by reclaiming ownership of, and pride in, their cultural origins. Above all, the artists here express hope, courage, resilience, and determination in the service of a better future.
Free and open to the public.
Part of the Indigenous Voices in the Americas series.