Events
See some past events here.
Ongoing Musical Arts and Theology Opportunities
Weekly chapel service
Seminary Singers
Marsh Chapel Choir. Scott Allen Jarrett, conductor
Inner Strength Gospel Choir. Herbert S. Jones, Director
---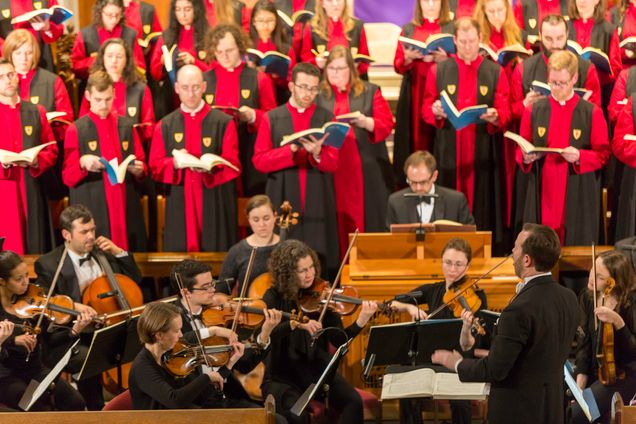 Led by Music Director Scott Allen Jarrett, the Bach Experience at Marsh Chapel explores Bach's musical world and theological connections. The 2021/2022 academic year features the fourteenth Bach Cantata series across five Sunday mornings, with breakfast, a discussion of the work, and a performance in the morning worship service. See more information here.
Sunday, September 26, 2021: Herr Gott, dich loben alle wir, BWV 130
Sunday, October 31, 2021: Ein feste Burg ist unser Gott, BWV 80
Sunday, November 28, 2021: Schwingt freudig euch empor, BWV 36
Sunday, January 30, 2022: TBD
Sunday, April 10, 2022: Himmelskönig, sei wilkommen, BWV 182
---

Dates: January to April 2022.
Location: 2nd floor landing of the George Sherman Union – 775 Commonwealth Ave.
Part of the Indigenous Voices in the Americas series.
Bear Map
Black bears were very common here, and their populations may be rebounding in areas where there is enough human tolerance, space, and natural resources like healthy fish to support them. For this map I have chosen to realize the Southern New England landmass as a bear to point to the Native attitude to the earth as a living being that is worthy of our respect, and care. Place names like Sinnechetaconnet, Pocutahunk, Assonet, Monponset are descriptive village names in the closely related Indigenous languages here: Wampanoag, Nipmuc, Mahican, Narraganset/Niantic, many of which later had the newcomers towns and cities planted right on them. And they were renamed for places in England. In using Native placenames, I am reclaiming Native space in the northeast.
Winter Dreams
This traditional wampumpeak belt is fashioned to look like the old style large belts; spare in design, with a lot of open space. They have a quietly expansive feeling of light on the open ocean, or perhaps light upon fields of snow. The male and female keepers of such pieces here in Massachusetts knew the stories and events very well by memory, and were not all depending on complex symbols to recall traditional knowledge and diplomacy at large gatherings or ceremony. Such wintertime gatherings for storytelling were common when there were many tribal communities in a region criss-crossed by well-traveled paths.
Internationally known artist Elizabeth James-Perry is enrolled with the Wampanoag Tribe of Gay Head -Aquinnah in Massachusetts.  An internationally known artist and speaker Elizabeth makes distinctively robust and textured wampum shell jewelry, porcupine quillwork, and northeastern twined textiles. She creates substantial heirloom quality adornment items reflecting her Algonquian diplomatic heritage.   In cultivating many of the plants used in natural dyes at her home in the Southcoast area of Massachusetts, her gardens serve to seed the suburbs with important Native species. The rest are wild harvested in a sustainable way.