Events
See some past events here.
Ongoing Musical Arts and Theology Opportunities
Weekly chapel service
Seminary Singers
Marsh Chapel Choir. Scott Allen Jarrett, conductor
Inner Strength Gospel Choir. Herbert S. Jones, Director
---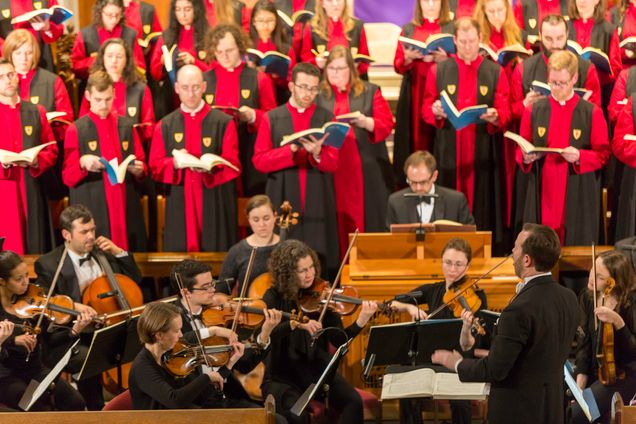 Led by Music Director Scott Allen Jarrett, the Bach Experience at Marsh Chapel explores Bach's musical world and theological connections. The 2022/2023 academic year features the sixteenth Bach Cantata series across four Sunday mornings, with breakfast, a discussion of the work, and a performance in the morning worship service. See more information here.
9:45 a.m. – Discussion of the cantata of the day
11:00 a.m. – Performance of the cantata in the morning worship service
Sunday, September 25, 2022: Herz und Mund und Tat und Leben, BWV 147
Sunday, November 20, 2022: Wachet! betet! betet! wachet!, BWV 70
Sunday, January 29, 2023: Sie werden aus Saba alle kommen, BWV 65
TBD: Darzu ist erschienen der Sohn Gottes, BWV 40
---
Dates: August 11 to January 29, 2023
Location: Institute of Contemporary Art, 

25 Harbor Shore Drive
The artwork of Rose B. Simpson (b. 1983 in Santa Clara Pueblo, NM) encompasses ceramic sculpture, metal work, performance, installation, writing, and automobile design, offering poignant reflections on the human condition. Her ceramic figurative sculptures, which range from intimately scaled works to monumental standing figures, express complex emotional and psychological states, spirituality, women's strength, and post-apocalyptic visions of the world. Simpson is part of a multigenerational, matrilineal lineage of artists working with clay. She combines processes of producing clay pottery in practice since the 6th century with innovative techniques and materials, connecting tradition and knowledge of her own place in the world today. For Legacies, Simpson's signature themes and approaches to working with clay are brought together in a focused open floor plan presentation of her ceramic sculptures, including individual figures, pairs, and groupings, and new works made for the exhibition.
Dates: August 11 to January 29, 2023
Location: Institute of Contemporary Art, 

25 Harbor Shore Drive
Jordan Nassar's solo exhibition—his first in Boston—presents a selection of his intricate embroidered and mixed media works. Nassar (b. 1985 in New York) draws on traditional Palestinian craft techniques to investigate ideas of home, land, and memory. His work, which he creates in collaboration with Palestinian embroiders and craftspersons, combines geometric patterns with abstracted landscapes, imbued, in the artist's words, "with yearning, while hopeful and beautiful." Through complex patterning and a unique attendance to form and color, the painterly aesthetic of Nassar's embroidery allows the artist to explore relationships between craft and history in new contemporary dialogues.