Events
See some past events here.
Ongoing Musical Arts and Theology Opportunities
Weekly chapel service
Seminary Singers
Marsh Chapel Choir. Scott Allen Jarrett, conductor
Inner Strength Gospel Choir. Herbert S. Jones, Director
---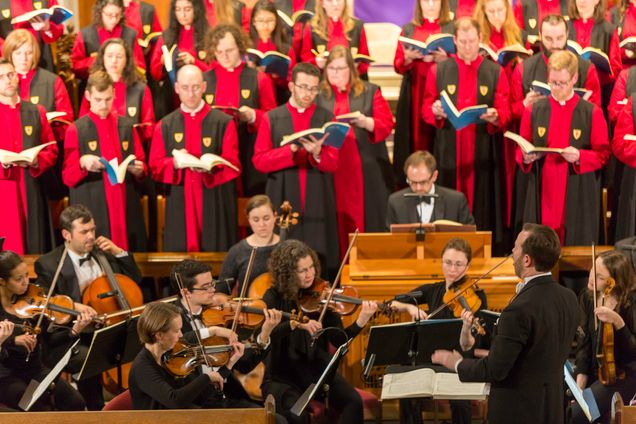 Led by Music Director Scott Allen Jarrett, the Bach Experience at Marsh Chapel explores Bach's musical world and theological connections. The 2022/2023 academic year features the sixteenth Bach Cantata series across four Sunday mornings, with breakfast, a discussion of the work, and a performance in the morning worship service. See more information here.
9:45 a.m. – Discussion of the cantata of the day
11:00 a.m. – Performance of the cantata in the morning worship service
Sunday, September 25, 2022: Herz und Mund und Tat und Leben, BWV 147
Sunday, November 20, 2022: Wachet! betet! betet! wachet!, BWV 70
Sunday, January 29, 2023: Sie werden aus Saba alle kommen, BWV 65
Sunday, April 30, 2023: Christen, ätzet diesen Tag, BWV 63
---
The 2023 James and Audrey Foster Prize presents the work of Cicely Carew (b. in Los Angeles), Venetia Dale (b. in Winfield, IL), and Yu-Wen Wu (b. in Taipei, Taiwan). Encompassing a wide range of media, from sculpture and installation to time-based media and works on paper, the exhibited projects demonstrate how these Boston-area artists each uniquely engage with the theme of states of change, whether through personal experiences, the passage of time, or in the very nature of materials undergoing transformation in the making of an artwork. First established in 1999, James and Audrey Foster endowed the prize (formerly the ICA Artist Prize) and exhibition to nurture and recognize exceptional Boston-area artists.
This exhibit will be open from August 24, 2023 - January 28, 2024. For more information about the installations and the artists, visit https://www.icaboston.org/exhibitions/2023-james-and-audrey-foster-prize/. Admission to the ICA is free for Boston University students with a valid student ID.
From October 25th-27th, CFA will be hosting the legendary Michele Rosewoman, Román Díaz, and New Yor Uba, a band combining experimental jazz and Afro-Cuban traditional music, for a residency on their 40th anniversary tour. Events will include a lecture/concert of Afro-Cuban sacred music (10/25), a concert of the full band (10/27), and class visits around campus.
Dates: Spring 2023
Location: School of Theology Community Center, Bottom Level
Written by Susi Franco, STH MTS 2019
This book was born out of a photovoice project facilitated by Susi Franco, a student completing a Master of Theological Studies at Boston University School of Theology. Photovoice is a tool used to investigate within a community what factors affect our lives and how we can mobilize to be agents of change. The hope for carrying out a photovoice project in Colombia grew after the peace agreements were signed in 2016. At the beginning of her theological studies, Susi wanted to find ways in which photography could be used to cause positive social change. Informed by a theology of conflict transformation focused on social justice, Susi began to investigate ways and models to highlight the voices of vulnerable and stigmatized populations in the peace process in Colombia. From these investigations was born an adaptation of the photovoz methodology of Wang and Burris (1997), to be used in the context of the transformation of conflicts in her homeland.